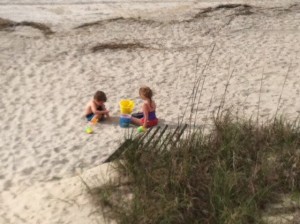 Last week we spent seven days at a gorgeous North Carolina beach. We had great weather for most of the week. Then Thursday came. My kids (and I) are so gung-ho for the beach, we splashed in the waves for a good hour in the morning, but the rain and chilly weather kept us indoors for the rest of the day. My usually cable deprived children discovered a deep love for Looney Tunes, but by lunch time we were all stir crazy. But because we prefer remote, quiet beaches, we were at least an hour away from the closest indoor playground or museum. So where did we go? The local library, of course! We spent two hours reading books and playing with the toys in one of the best children's rooms I've seen in a library. Who would have thought it of a tiny beach library in an old brick house? Here are some fun books we discovered:
A Bad Case of Stripes
 by David Shannon featured bright, imaginative illustrations and a story about a girl who develops a rare condition all because she won't admit she really loves lima beans. It's quirky and fun and has a pretty deep meaning. This one is for children ages five and up. There are some words that throw younger children off track of the plot, such as "specialists." If you have a little one starting school or some other new adventure and he or she is feeling the pressure to conform and fit in, this is a great book to open up conversations on identity. I liked it, though I couldn't stop being reminded of Amy Bender's work, which makes me depressed. But this book will not depress you or your children.
I'm Dirty
 by Kate McMullan and Jim McMullan is just one in a great series of books about trucks that my little boy loves. In I'm Dirty, a backhoe loader narrates in first person a day of work as he cleans up and flattens a dirty lot. He is very enthusiastic about his job. My children's favorite book in this series is I'm Mighty, a fun book about a tug boat.
And did you know that the first book about Curious George is not a Curious George book? H. A. Rey
first introduced that now famous little monkey to the world in a book about a giraffe named Cecily G. In Cecily G. and the Nine Monkeys, a homeless giraffe is befriended by a family of monkeys, and antics ensue. Some of their antics are a little too much for me, but it is a fun book and interesting to see the beginnings of our beloved George. Actually, I'm not sure that my kids love George–sometimes I get the feeling they're kind of annoyed by his constant troubles–but I love him. =)
Also, this particular library had two copies of Ruth Sawyer's Roller Skates. Why does my library not have even one copy? That is one of my favorite books ever. I should do the smart thing and just buy it. When the kids stopped asking me to read books and played with the cars and trucks on the car mat, I read that. Even Mr. Mia found something to read, a fascinating book about the history of the atomic bomb. Children's history books are really the best.
Now we're back to our normal lives, gearing up for a great summer and a new baby. Look for my summer reading list post in a few days!