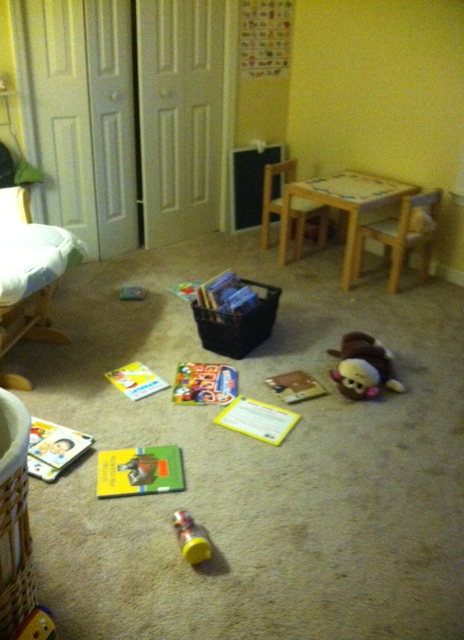 For some reason, book messes don't bother me as much as other kinds of messes…
But life has certainly been messy around my place lately.  My progress on the books I've been reading lately has been slow.  One of my favorite authors, Ann Voskamp, often writes, "Life is not an emergency."  As much as I appreciate and need that perspective, sometimes, life does feel urgent.  Sometimes your whole family gets a stomach bug; or you really do have to get those errands done before two birthdays and two anniversaries occur in one week; or your husband has to travel for work and it's all on you, mama; or your first nephew arrives and (happily) other things get put on hold for a few days.
That's been the month of May for us, so the book messes are some of the nicest messes that have been going on around here. I'll spare you photos of the other ones.
Even in the frantic days, however, I have to read something.  A lot of times I find I turn to my old favorites; they're kind of like comfort food for a bookworm.  When I'm having a hard time on the family and home front, reading the later books in the Anne of Green Gables series cheers me up.  (On a side note, if you're one of those people who says, "Oh, I read Anne of Green Gables but I didn't know it was a series," I am jealous of you because there are EIGHT books in that series and they are wonderful. I have read them to mental shreds.  But I still love them).  If I can't seem to think anything but negative thoughts, I re-read One Thousand Gifts by Ann Voskamp or I Capture the Castle (because it's just fun and strangely uplifting) or The Guernsey Literary and Potato Peel Pie Society.  When I'm sick of life in the fast lane, I read Austen or Gaskell (usually Wives and Daughters).  And if I feel like my brain is mired in the mundane, the Narnia books by C.S. Lewis or some other fantasy fiction is just what I need.
Those are just a few of my comfort books that come to mind.  I have to mention the Bible because I'm always reading that, and it is comfort and beyond.  What about you? Do you have books you turn to when your mind is troubled? I'd love to hear about them.