My family and I spent this past weekend camping in the Blue Ridge Mountains. We had a great time splashing in cold mountain streams, hiking on little trails near our campsite, taking long walks to the bath house, and sleeping on our sleeping bags side by side in our tent. I didn't carry my camera with me much, but I did take lots of mental pictures that I hope to carry always: three tired heads sleeping on their pillows in the early dawn light; my son cuddled in a hammock with an uncle or aunt (my kids have lots of great uncles and aunts); the warmth of campfire reflecting on happy, tired faces; and my four-year-old, usually very girly daughter in her pink jeans, pink shoes, and pink shirt intently learning to swing a baseball bat. Turns out she's pretty coordinated and is crazy about baseball now, thanks to some really thoughtful friends who brought a new toy for our children. My son kind of tries to hit the ball with a golf-like swing, but he'll get it right someday. Or maybe he'll just stick to golf.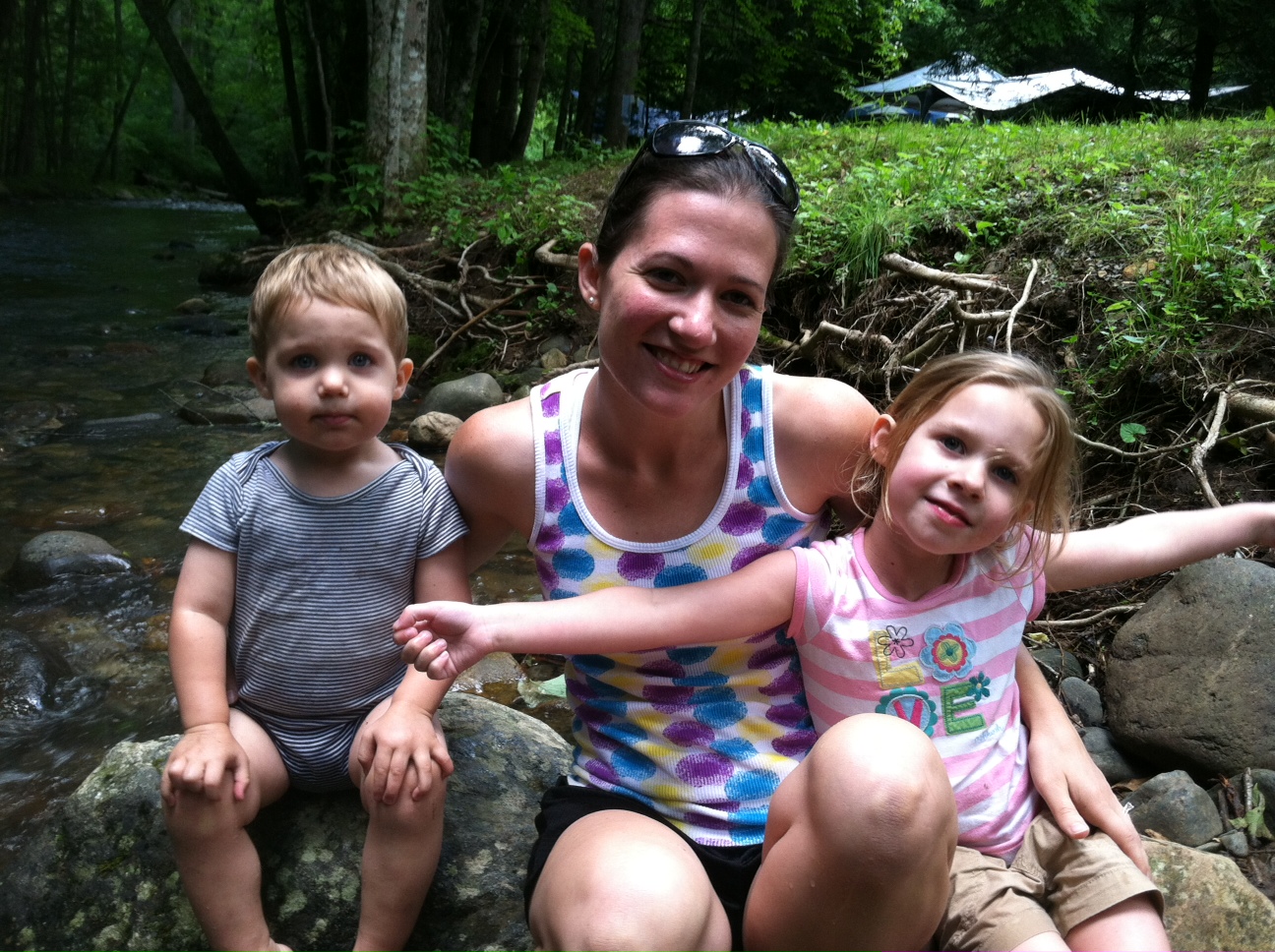 We had a lot of fun even if we didn't sit around the campfire relaxing nearly as much as we used to before we had children. I always take lots of books with me when I go to the mountains. I took three books with me on this trip, but I only read a quarter of one. But here's what I did read quite a lot of before we left:
Laugh if you will. I am the type of person who always find a book to read on whatever topic I feel unprepared for. Childbirth? Read at least five different books on it. Parenting? Still reading books, and I've lost count on how many I've read so far. Preparing for job interviews? Two books (they didn't help much). Cooking for children? Three books. You see? I buy into the theory that knowledge is power. So, yes, I read a book on how to camp with kids. And it was fairly helpful. I probably would have thought of a lot of the tips without reading that book (for instance, keep your children away from open fires), but there were some helpful hints. One of the ideas was to take some monster truck toys with you so your children can make trails at the campsite or on hikes. That idea was genius. I will probably read The Guide again when my children are older and I can do more of the games and activities suggested in the book. It's a great book if you're like me, and need a book to prepare you for life's major hurdles, such as camping with children in the mountains.
We also love the book We're Going to the Mountains by Steve Kemp. 
My husband and I bought it on a trip to Ashevillle, NC when our daughter was just a baby. Both of our children love that it's a poem with pictures. It's so lyrical, it's one of those books that's easy to memorize after you've read it a few times. We recited bits of it several times throughout our trip. I like how it sets some expectations for small children of what people usually do when they go to the mountains. The illustrations are gorgeous, too. I've only seen it sold at Mast General Stores, or Amazon, but if you're going to camp with children, I highly recommend getting a copy somehow.
And Goldilocks and the Three Bears is a fun one to read in the mountains. It kind of takes the fear out of the fact that there may be bears around. This is my favorite version of the story because it's the one my family had when I was little. My parents now have it in their living room for the grandkids to read when they come over, and I still think that this version has the cutest Baby Bear ever. Jan Brett has done a version that is breathtaking visually, but may be a bit too wordy for very young readers/listeners.
So that's what I learned about camping with children. What books and ideas have been your favorite when camping with kids? We had a great time and plan to go again, so bring on all the suggestions you can think of!