Confession: I don't really struggle with the dreaded dust bunny problem. I keep hearing about how they multiply and bring friends and they just won't go away. Apparently, they are a real nuisance for some people.
I am not one of those people.
I look at my furniture and think, yeah, you're probably under there, having a party, but I don't really care. Dear Dust Bunnies, you are the least of my concerns.
Maybe I'm the worst housekeeper in the world, but let me be honest for a few minutes. I don't have time to worry about sweeping out dust from where no one sees it, because I can't walk across the kitchen floor without losing a flip flop on that sticky spot I keep meaning to mop. I think it might be spilled cereal milk from yesterday morning, but it could also be residue from the smoothie my son knocked over. Four days ago. (On an aside, residue is such a pleasant word when what you're talking about can be anywhere from tree sap to bacon grease. It's almost like a housekeeping euphemism).
I don't have time to worry about sweeping up hidden dust– I'm too busy saying, "I don't know why you don't have any clean socks, Mr. Mia, but it's probably because I spent a large chunk of time today scrubbing the kids' bathroom, trying to figure out what in the world that smell is."
Yes, the dust bunnies are probably under there, but I somehow accumulated four house plants in the space of three weeks, bringing our grand total of house plants to…four. So you see, I'm kind of busy watering house plants. Maybe that's why my house plants always die! The dust bunnies feed on them in the middle of the night!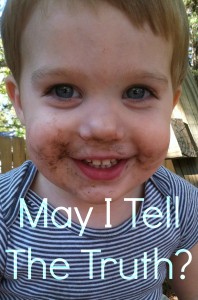 I'm not saying one shouldn't dust her home. I'm just surprised at the number of people who have energy to worry about that sort of endeavor. If your only problem in your housekeeping is dust bunnies, you are one of my homekeeping heroes. I'm envious of your 95% clean home. I hope to be you one day, but not as long as I have a potty training two-year-old, a four-year-old with mad art skills, and a stomach the size of a basketball.
But if, just if, you're talking about dust bunnies but really you're thinking about the mold that might be growing at the bottom of your laundry pile, then let's leave the cute lint animals under the couch and admit that we have a lot of other concerns growing way faster than fluffy imaginary pests. Such as the fact that allergy-ridden toddlers often feel free to use the couch as a snot rag. Now that is a problem.
And it's okay to be honest about it. In fact, it would make me and probably one or 4,000 other moms out there feel a lot better about their own homekeeping struggles. May I suggest that you make May your May I Tell The Truth? month. I'll be joining you here, in this space where you'll often hear about books but just as often hear about the learning curve that never ends on the parenting journey. It's going to be a blast. Honestly.