I had some high hopes for the Christmas season this year. We were going to do crafts. We were going to make our own bows to decorate the garland on the front porch. I was going to make a burlap banner that said something joyous like "Joy." Profound.
Oh, and I was going to make my own candles. Ha! Knee slapper.
Every year I make all these plans that seldom ever happen. The only difference from this year and the other years when my over zealous plans have failed is that I am okay. Really! I'm okay that we only baked one thing (yesterday), that we still don't have bows on our garland, that there is no burlap banner gracing our mantle (burlap is cool, but why? Something to ponder).
I'm okay because I'm embracing the word "Freedom" this Christmas. In fact, it's turning out to be the best gift I could have given to my family. This is especially true for my daughter. Creative license is like a love language for five-year-old Ella. She unfurls like a Christmas rose when I let her do her own things. Our house really doesn't have a finished feel at all this year. It looks like this: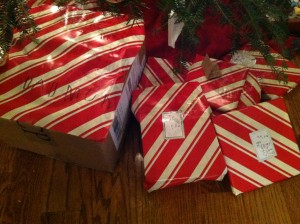 And this: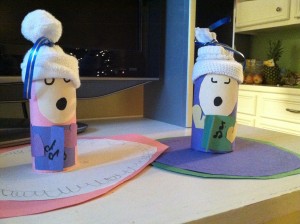 And this: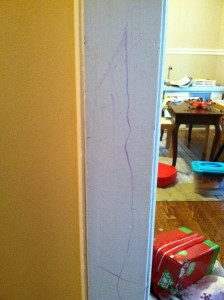 Err…that may be a little too much creative license taken by the 3-year-old boy in our house.
I wouldn't say our Christmas season has been "magical" because let's be real, we still deal with sleepless nights, bad attitudes, hectic work schedules for Daddy, and plain ol'  real life in the midst of the holiday season. But giving this gift called Freedom has changed the overall feel of our Christmastime celebrations. I made this decision that we weren't going to stress the small stuff early on in November, but I didn't expect that it would make our whole Christmas feel like something closer to light and cheery instead of stressful and performance driven. And now I'm realizing, isn't Freedom what Christmas is all about?
"It is for freedom that Christ has set us free." (Galations 5:1)
Yes. Freedom is not just for the Fourth of July. Freedom is for every day, and especially Christmas Day. It's the best gift humanity has ever been given! Freedom from the law, freedom from fear, from death, from striving to be perfect, and freedom to love and be loved. I struggle to put "give more love" into practice, but now I'm thinking it involves giving freedom to those we love.
I highly recommend including some freedom in your gift giving this year. It's not too late. Let the children make a mess in the kitchen. Let your husband wear that ugly sweater/sweatshirt/fishing shirt without comment. Let your family members be sad if they feel sad, even on Christmas. Don't sweat it if the bread doesn't rise for Christmas dinner. It may not be the easiest gift you've given, but giving freedom gets easier and more joyful as you go along.
I hope you have a very, very merry Christmas!
With love,
Mia
Like this? Read What Christmas Looks Like Sometimes