It has been a while…let me explain. No, there is too much. Let me sum up.
(Long live The Princess Bride, most quotable movie ever).
You know what the internet really doesn't need? Another home renovation blog. However. Since I am writing this blog, whatever my life features a lot of tends to be what ends up here. That's always, always books and reading, and it also includes parenting, meal planning, friendship, and lots and lots of coffee. Lately, we've thrown another plot twist into our journey and, you guessed it, it's a home renovation. A big one.
Click here and picture the most beautiful place in town with a tall brown house on a hill, surrounded by tall trees, just a short walk from a beautiful river, with a nice wooded back yard and visions of wreaths on the windows at Christmas dancing in its head.
Are you seeing this in your mind? Hello, Orchard House and all that is beautiful in Little Women (1994). 
Except for the beautiful snow, and the candlelight…oh yeah, and the fact that it actually looked like this: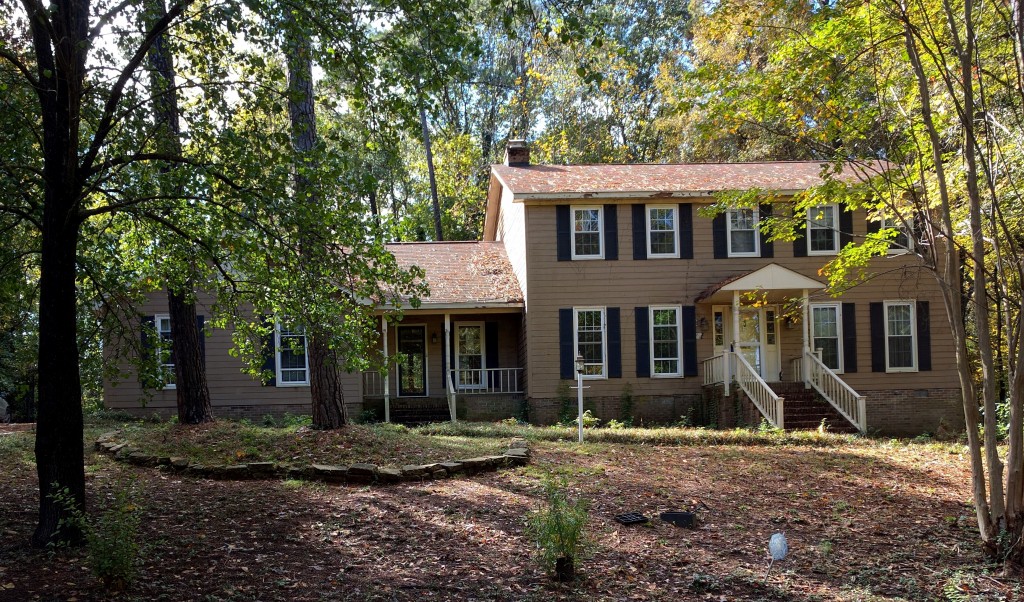 With crumbling cedar siding, a smell inside that makes you wish smelling salts were still a thing, holes in some of the walls, and a built in skateboarding ramp in the front entry way due to foundation issues. And that's just for starters. I'd also like to mention that this house was practically a 1990s Wallpaper Museum. It's just too bad I ruined it all before I thought about all the money we could make off of people who are dying to see room after jaw dropping room of floral wallpaper. It's too late now…I only have one room left to strip of its wall paper. One room! This is our fifth house my husband and I have renovated as a couple,  and I've got to say, wallpaper should be illegal. Eeee-leee-gal. 
My husband has worked tirelessly at patching walls, ripping out old floors, reaching out to contractors for vinyl siding from this recommended site, and other jobs beyond our expertise. But with a little help from the deck builders in Syracuse NY, we were able to do most by following the expert. Now we're about one month away from living in this house. It's hard to believe, and I'm trying to keep all my thoughts about it on the light side because the truth is, I wasn't expecting to move so soon out of the cozy cape cod we're in now. We bought it when we realized we didn't want to live beyond our means and downsized. That was four years ago, when we had just two tiny tots. Now we have three and a work-from-home husband/father. I know we're outgrowing what most would consider a starter home, but I had fully embraced the Small House Love ideas. It's all been a lot to work through in my overworked brain. That's not to say I'm unexcited about gaining more square footage in a quaint neighborhood in the kind of house I've wanted since I was a little girl. Not at all! I'm pretty excited.  Especially since my awesome husband let me pick white vinyl siding from the Selling apps. These apps have made it so easy for me to buy and sell my old renovation stuff. I've always wanted a white house! Here it is currently, after new vinyl but before new trim paint on the porches: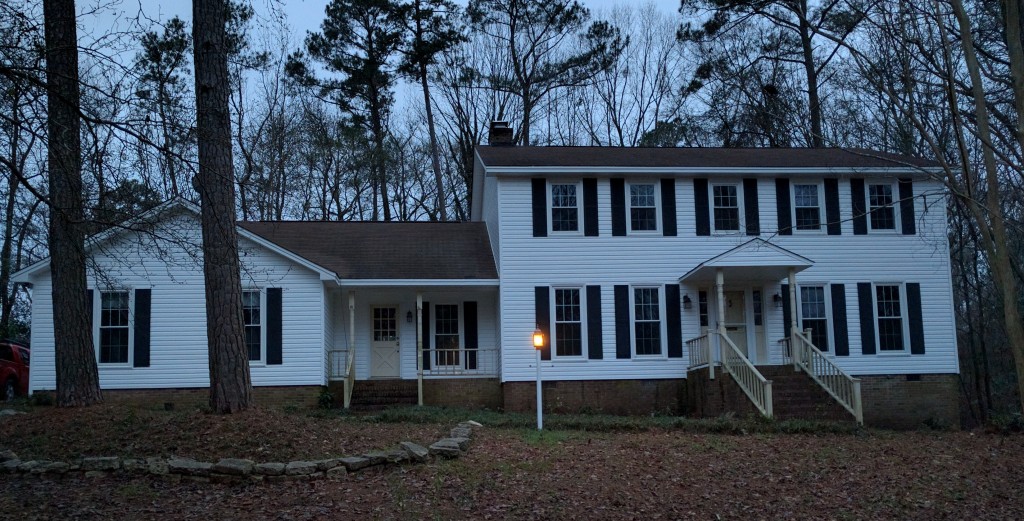 So! I'm excited, I'm busy, I'm juggling two houses, and I'm not reading a whole lot. But I have to be perfectly honest. I'm not reading partly because I bought a fixer upper and partly because of Fixer Upper. No, I'd never seen that show before a few weeks ago. I finally caved and watched it because I got tired of saying, "We bought a fixer upper" and then having people say, "Oh, I love that show!" and having to say, "No, I've never seen that show, I'm just talking about buying a house that needs fixing up." TV is not my thing, but now I have to admit that I love that show. And every time I mention I have a fixer upper I also have to say that I just do the boring stuff like take out all the wallpaper and redo tile. I still desperately need Joanna Gaines to come to my home and decorate for me. Also, why is all this decor and furniture not in the home's renovation budget? Anyway! I have a fixer upper, I'm watching Fixer Upper, and I'm trying not to think too deeply about the fact that we're going to be moving across town in just a few weeks.
Oy vey.
I have been reading books, though, and I'm hoping tomorrow to post a quick list of my favorite reads of the past few months. And maybe I'll even get a Three Book Thursday up this week! But I'm only on Season Two of Fixer Upper, so we'll have to see about that.