Most of the posts I've written so far have focused on recently released literature (well, at least released in the last five years).  While I like to read new releases and be one of the first to discover great books, most of the books I really love have been around for 50-100 years. Or more. Just that smell of old pages between hardback covers makes me smile deep down inside.  Last fall, I read two great books written in the mid-1900s and set in the mid-west: Heat Lightning by Helen Hull and Winter Wheat by Mildred Walker.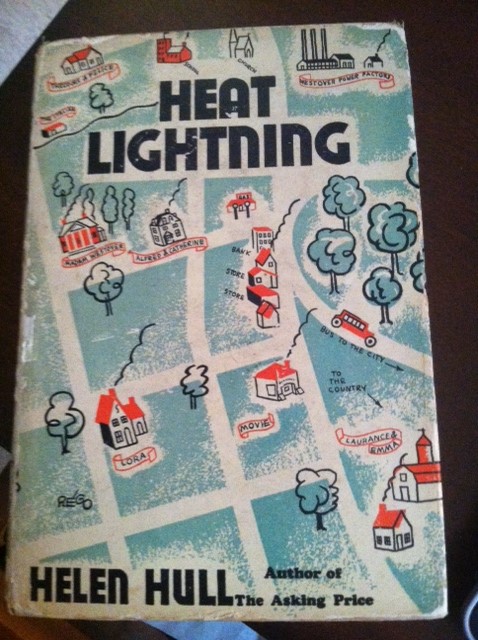 Heat Lightning follows the journey of Amy Norton, a 35-year-old wife and mother of two, as she travels from her home in New York to visit her family and hometown in the midwest.  She is basically having a mid-life crisis.  Her kids are old enough to be independent (during the book, they're at summer camp) and her husband has been distant and is camping while she travels. At the beginning of the book, you meet the Westovers, Amy's family, who live in the small town where Amy grew up. I felt like I knew them as soon as they were introduced. Helen Hull did character descriptions and development so well.  Forgive me for throwing Downton Abbey into this post that really has nothing to do with Downton Abbey, but if you're a fan of that show, Madame Westover will remind you of Dowager Countess. She is the book's best character. As the plot moves forward, the Westovers and their endearing characters and family relationships becoming the heart of the book.  However, a careful reader can see Amy's spirit returning as she figures her past and present out at the same time.
Rachel of the Book Snob blog wrote that Heat Lightning "certainly should be a classic of ordinary American life." Now, take into consideration that she is British. =) But I enjoy her book reviews and share some of her book tastes, which is why I decided I had to read Heat Lightning. The only publisher currently releasing it is Persephone, but I got mine used on Amazon.   There are several themes, all well developed, but all very subtle. You could miss them completely if you're just reading the book for its plot, which is, frankly, not exactly gripping (and that's fine by me).  One theme pointed out in the Persephone edition's preface by Patricia McClelland Miller is "how can women flourish when they are expected to make most of the adjustments in situations which really require the efforts of both men and women?" I don't know if I noticed that theme as much as I noticed the theme of reconciling your childhood home with the home you set out to make with your husband and children.  However, I can think back on the number of couples introduced throughout the book and the life transitions each couple was navigating, and I think I'd like to re-read the book and focus on how Hull presents the husband-wife relationship. All in all, the book is both realistic and favorable when presenting marriage relationships. It kind of reminded me of Ilyrian Spring by Ann Bridge.
The theme that permeates almost all midwestern literature is that of town versus country. The characters are firmly planted in the farmland or rural town where they are born, but dream of something that they think must be greater (the city). Or they've been to the city but realize it's not all it's cracked up to be and there's a part of them that will never be at home unless they're in the rural setting they came from. The town vs. country debate is a part of Heat Lightning, but it is more central to the plot in Winter Wheat. 
Ellen Webb is a girl on the cusp of something totally new and great to her: college in a big city. That is, if the winter wheat crop is good. She has lived on a wheat farm in Montana her whole life with her East Coast father and Russian mother. Her parents met in World War II and they don't seem to have much in common from Ellen's perspective. Their relationship is the crux of the book. Ellen tries to reconcile her identity and the direction of her life through her parents' relationship. She wants to discover that her parents truly love one another, but the more Ellen learns, the more discouraged she feels about love in general and the love that created her. Also, Ellen has a hard time figuring out where she really comes from. She longs to understand and appreciate her roots, but she only knows Montana. I enjoyed following Ellen's perspective as it went through different seasons of being completely attached to detached to her home and her family. She loves them, she hates them, she wants to understand them, she wants to get away from them.  Along with the importance of figuring out where you're really from,  the responsibility of a girl to make her own way in the world in the post-war culture is a very prominent idea. Mildred Walker gave Ellen Webb a strong voice and character. Even when Ellen is troubled and directionless, I just knew she would fight her way through to be strong and ready to reach for a life she wants to live. The tone of the book was kind of lonely, as there are so few characters that really play into the plot or have much dialogue. I've never been to Montana, but I think the loneliness of the story and the setting are key to the book's themes.
I enjoyed both of these books, but I liked Heat Lightning the best out of the two. Hull's thoughtful, tender writing is beautiful and I can't wait to find another one of her books.
And if you're not into "older" books but think a novel set in the midwest in the 1930s or 40s sounds like just the kind of book you want to read, check out Ann Howard Creel's The Magic of Ordinary Days. Written in 2001 and made into a Hallmark movie in 2005, I think it's a beautiful book. It also explores themes like the loneliness and simplicity of mid-western farming and the importance of relationships that are built and tried by hardships and how they hold up or break down. I have already read it twice and will probably read it again someday.
Happy reading!