Today is drizzly, chilly, and dreary–a perfect day for curling up with a good book. Unfortunately, that's not what I'm reading. Life and all of its nutritional needs wedges itself between me and books on Saturdays. Saturday is a day of reading recipes for me. It's usually when I re-evaluate my meal plan for the week, do a quick grocery shopping run to fill in the gaps left after my big, first-of-the- month. we're-out-of-everything shopping trip, and try a new recipe or two. In my first Saturday Cooking post, I reviewed a few of my favorite cookbooks. This month, I'm not relying on cookbooks for my meal plan; most of my recipes this month are on Pinterest. So I thought I'd share a few of my favorite Pinterest recipe gems. I'll link directly to the site instead of to Pinterest for those of you who haven't entered the wonderful world of pinning. =)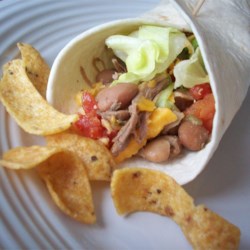 Slow Cooker Pork Chalupas: My husband's grandmother introduced us to this recipe years ago but I just got brave enough to try it myself. Turns out, it's a cinch! If you're feeding a crowd, this is a great recipe to try. In addition to the ingredients in this recipe, you'll need your favorite toppings for tacos: cheese, sour cream, salsa, whatever else you like. We usually serve the chalupa meat on a bed of lettuce and Fritos instead of on taco shells. Add a side of fruit salad or corn on the cob and your meal is complete.
Epic Fish Tacos:  Yes, we're big on tacos around here, but  these are not just any tacos. Their name is not an exaggeration; they are epic, indeed. I didn't change a single thing in this recipe in the three times I've made it, and it's always perfect. It's pretty easy, too! The only downside for us is our kids aren't big on fish. As in, they won't touch it with a foot-long fork. But, since we love tacos, we generally have some type of taco meet or quesadilla leftovers that they eat while we enjoy the epic-ness.
Honey-Ginger Chicken Bites: This recipe was touted as "great for kids," but our whole family enjoyed it. I've tried many recipes for Asian type chicken (sesame chicken, teriyaki chicken, etc.), but this is the only one that turned out a little crispy on the outside instead of soggy. We had it with rice and green beans.
Pumpkin Chocolate Chip Muffins: These are our muffins of choice right now. The recipe comes from the first blog I ever followed, moneysavingmom.com. It's delicious, and can be nutritious, with a few tweaks. The recipe makes a lot, so I have enough to go with dinner or serve as a breakfast, and then make some mini-muffins for snacks later on.
Easy Lemon Chicken: This is the recipe I'm trying out tonight. I'm risking the crock pot, even though the blog I've linked to here says it's not the best way to make this chicken. But I chose the recipe for the fact that it's a slow cooker recipe, and I've been told that it works great by a cook I trust. After re-reading the recipe, I'm a little concerned that I didn't use enough butter. Perhaps I'll go chunk in a few more "cubes" right now. Fingers crossed!
So that's what's cooking around here. Maybe you haven't thought about dinner yet because you're in the middle of an awesome book (I'm jealous). Whether you're reading an awesome book or trying a new recipe today, comment and let me know what it is! I'm curious about both. =)