Hey friends! Welcome to Quick Lit, where book loving bloggers come together mid-month over at modernmrsdarcy.com to share what we've been reading lately.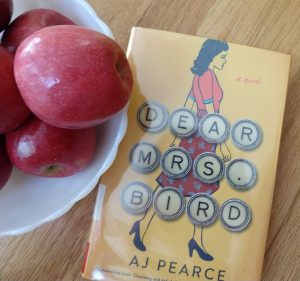 I read a few great books this summer, but there was one that stood up and said to me as I was reading it, "As wonderful as I am now, I'm really an autumn book, you know." The book was "Dear Mrs. Bird," and I adored it. It's historical fiction, set in the middle of World War II during the London Blitz. The plucky heroine Emmeline Lake leaves her day job in pursuit of becoming a war correspondent. She finds herself shoved into a back office of a dying magazine as an assistant to the fearsome Mrs. Henrietta Bird, a once popular advice columnist. Emmy's war effort takes on its own type of intrigue and danger as she attempts to do her part for England. Emmy is one of those characters who is an unquenchable friend, loyal and kind, and also drives her friends crazy with her impulsive actions. The book is both humorous and moving, compassionate and light but with the realities of war woven through it. The way A. J. Pearce wrote a book that is both modern and true to the 1940s time period is incredibly rare and special. I've read several books written in England during the war years, and Dear Mrs. Bird strikes just the right tone to fit in with books actually written in 1940-45. (And because sometimes it's nice to know, this book is about a PG/PG-13 level when it comes to adult content – fairly clean, with some mention of adult themes, some language, and of course the war themes). I think this book will appeal to you whether you like new releases or classics or just love a good cast of characters.
A few other ideas for your Fall TBR:
If you like middle grade novels: The Orphan Band of Springdale is a new release that is very good. I would argue that it has themes that put it more in a 6-8th grade range. It's one of those "children's" novels that anyone can enjoy.
If you like vintage books set in England: Merry Hall has me in stitches. The narrator is terribly funny in a sarcastic, witty way and his observations, though bogged down with gardening tidbits in my non-gardener's opinion, are on point. I'm reading this rare book for free here. Internet Archive is a goldmine.
If you have a baby in the house: My baby (17 months) loooves the book Who?: A Celebration of Babies.
If you like non-fiction: I'm both laughing at and moved by Jennifer Fulwiler's book One Beautiful Dream. It's her story of how she came to realize that pursuing her passions and callings while raising a young family was actually something she needed to do. I'm hoping she'll explain how she does that, too, because there are only so many hours in a day… and can I just say that the cover of this book kind of makes me cringe, and I think that was the intention? Fulwiler's honesty about her real life starts even on the very cover. I admire her courage to put that on her book instead of choosing a cover that would be more Insta-worthy.
If you're looking for an important and insightful addition to your fall reading, Hillbilly Elegy: A Memoir of Family and Culture in Crisis is eye opening and informative. J.D. Vance writes about his upbringing among the working poor of America. Ideas about how the American dream has come and gone for certain regions in America were especially fascinating.
I'm putting Kind is the New Classy by Candace Cameron Bure on my Fall TBR because her interview with Jen Hatmaker on the For the Love podcast had me very interested in Bure's ideas about moving our outrage culture towards a kinder culture. I'm one of those strange people who didn't actually watch much of Bure's television or movie career develop, so I can honestly say I feel compelled to read her newest book based on the premise of the book alone.
So that's what I've been reading lately and plan to read soon! Our homeschool's first day of is today, and I'm both excited and nervous about going deeper into this home educating journey with a fourth grader, second grader, Pre-K-er, and toddler. Any ideas on good books about long term vision in homeschooling? I'm all ears.
Happy reading!