It's pouring rain here…the perfect day for me to tell you about this gem of the book: The Pink Umbrella, by Amelie Callot, illustrated by Genevieve Godbout. This is a children's picture book, but it's also the perfectly delightful story for all ages of Adele, a cafe owner in a small village by the sea.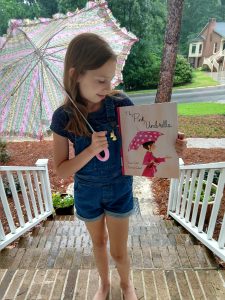 Adele is like sunshine to the people around her, but gets very blue on rainy days. In short, Adele hates rain, and the people who love her hate to see her sad. The story develops in a simple way, but it will melt your heart.
Yes, The Pink Umbrella is about romantic love, but in the best possible way. The love story is about a slow, abiding, caring, gentle love, not a sweep-you-off-your-feet, love-at-first-sight kind of love our children are so often exposed to in fairy tales and through all kinds of mediums. Beyond a healthy and beautiful love story, the book gives a good picture of how a hard-working, thoughtful, and generous person in seemingly small ways can change the people and places around him or her. Adele is an ordinary woman, not a princess, and this is an ordinary story, but with gorgeous illustrations and a couple of characters you'll want to know in real life.
Make an outing to a library or bookstore to get The Pink Umbrella part of your plans this weekend!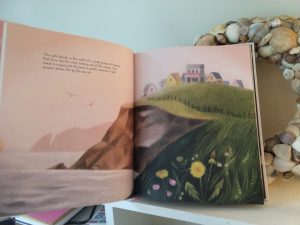 {Note: this post is completely UNsponsored}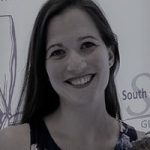 About Mia The Reader ~ Just a lady with a busy life full of a big family, a background in literature, and an obsession with books ~