My brain is all over the place right now, so here's a list of bookish and mostly non-bookish thoughts.
I have spent the last two weeks picking up various books, reading a few chapters, and returning them to the library without finishing them. It wasn't so much that they weren't good books, but my heart and mind haven't been into it. I've been restless. It's like something has been telling me, "Just stop the reading, and do some thinking." And then I attended the IF: Gathering . And now I'm like, "I need a book to get a break from all this thinking!" It was inspiring and rattling to listen to the likes of Jen Hatmaker and Shelley Giglio and Ann Voskamp and all kinds of amazing women. I am still trying to process it all and figure out what it means for me. I think everyone who was a part of IF is in a process, and that's why the IF leaders have created IF: Equip. This is free and open to anyone, whether you attended IF or not. It's a devotional/journaling/discussion tool. And it's awesome.
And if you attended or tuned into the IF: Gathering, I'd highly recommend reading Holley Gerth's book You're Made For A God-sized Dream as soon as possible. It is so closely related to the content of the speakers from IF.
2. It's snowing here again. Y'all…it should not snow so much in place where everyone says "y'all." I drove in the snow for the first time in my life today, because ballet class cannot be missed. And we were out of diapers.
3. My daughter has started ballet again, and I am eating so much mental crow. Ballet used to be the place where it looked like I had it all together. Or at least I felt like it. Now, I look like that harried mom who just wants her kid to "Pay attention and help me out when I'm trying to put on your dance shoes, for crying out loud." My frustration is not so much the little distracted ballerina's fault, but also the fault of the little brother pulling on my shoulder, just about knocking me over, saying in his toddler-deep voice, "Mom, mom, mom, what is that? what is that?" The phrase "Just a minute" means nothing to a two-year-old. Absolutely nothing. So, to all the moms whom I ever judged when I heard you speaking irritably to your children, I'm sorry. I totally understand how you feel.
Also, insert a little boy with graham cracker crumbs all over his mouth in the place of Fancy Nancy's little sister, and this is what we looked like at Target today: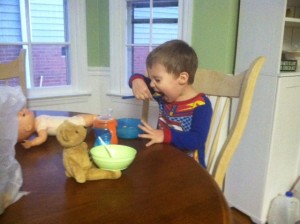 4. Raising a little boy is hard. It just is. I sometimes don't think I'm built for it, and then I realize, yes, I am. I have one, so I am. But it's definitely a stretching experience. I love him intensely – his boisterous zeal for life, his big soulful and mischievous blue eyes, his 90-miles-per-hour pace, his affectionate and goofy grins – I love all of him. And almost all of him can drive me crazy at the very same time. It's enough to pull a mommy's heart to pieces and then put it back together several times a day.
That's all the randomness I'll share today. Sometime this week a real blog post will show up here. Unless I'm buried in the ice storm that's supposedly on the heels of the current snow storm.
This about sums up my winter sentiments:
Happy snowy days!