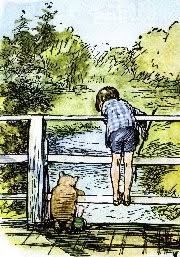 The year is coming to a close, cheerful Christmas lights are shining through the windows from the front porch garlands, and holiday busyness is carrying us along like Pooh sticks in a raging river. There are many more pressing things to think about at this time of year, but I'm going sit for a minute with the books I read in the past year and write up a quick list of highlights to share here. I hope you had a great reading year and will find a good book somewhere in this list to put on your 2020 reading list!
[Side Note: Links to books throughout this post are not affiliate links]
Best Novel Published in 2019
Where the Forest Meets the Stars – This novel by debut author was beautifully written, if a bit eerie, and handled serious subject matters well. The setting was enthralling and the characters drew me in right off the bat. This book has all that and a plot that will keep you turning pages. I'd recommend this if you like the exciting, page turning nature of Gone Girl or The Girl on the Train but don't want to actually stomach the content. This one has some similar themes as far as crime goes, but is not as jarring and the themes are handled much more gently and with more purpose.
Runner Up
I'm Fine and Neither Are You – A clever, honest, sometimes humorous look at life in the middle years of a marriage. Though my worldview differs from the author's on many things, the subjects brought up are worth thinking over, from friendships to comparisons women make between themselves to what a good marriage looks like. If you're in a book club, especially a women's book club, this would be a great pick.
Also read in this genre:
Ellie and the Harpmaker – 4 stars – I will read whatever else Hazel Prior writes because her prose took my breath away. Some of the content in this book regarding relationships didn't sit well with me; otherwise, it would be a 5 star book and winner of the category.
The Bookish Life of Nina Hill – 2.5/3 stars – liked the main character, didn't love what goes on in the book
The Printed Letter Bookshop – 2 stars – Not my favorite Reay, though I always enjoy her literary references throughout her novels.
The Overdue Life of Amy Byler – 1 star
Beyond the Point – 2 stars
Lost for Words – 2 stars
Best Historical Fiction
The Gown – This book was so much better than I expected. First, I should state that I'm not the best one to ask about books in this category right now, because I didn't pick up much historical fiction this year. Call me crazy, but I'm weary of The ______ 's Daughter or The _____'s Wife titles, just fill in the blank with whatever comes to mind, haha! I know some are absolute gems, and I'm not seriously knocking them, but I got a bit bored with the genre. I really liked The Gown, however, for it's attention to character development and historical accuracy without feeling overwrought and contrived, or jumping from present day to past narratives. I would recommend it to any historical fiction fan. Also, this is a good one for readers who prefer minimal strong language, and except for one "scene" I would say puts it at the PG-13 level, it's a gentler read than most current historical fiction.
Runner Up:
Also Read in this Genre:
The Flight Girls – 2 stars
The Lieutenant's Nurse – 3 stars
Time After Time – 2 stars
Best Novel I Read in 2019
Hannah Coulter – What a gorgeous, moving wise novel. I should have read this a long time ago, but then, would I have appreciated it as much as I do now at this point in my life? Probably not. It's a retrospective review of a woman's life, with so much insight and wisdom about humanity and all kinds of love. It's a classic, and I loved this book more than any other I read this year. I will be reading more Wendell Berry in 2020!
Also read:
The Remains of the Day – 5 stars – If you are a fan of slow but rich novels, Mr. Carson in Downton Abbey, and figuring out whether your narrator is reliable or not, you will like this book.
The Scent of Water – I plunged into Elizabeth Goudge at the end of last year for the first time with Pilgrim's Inn and now have also read Gentian Hill, The Little White Horse, I Saw Three Ships, and City of Bells. I love it all and will keep on reading Goudge as fast as Thriftbooks can supply me with these mostly out of print novels. (Side note: many of the covers of Goudge books are just hideous. Don't judge these books by their covers!)
A bunch of D.E. Stevenson and Elizabeth Cadell…I will spare you the details, as I have already waxed on and on about these authors.
Best Non-Fiction
Boy Mom – I have one son and three daughters, and I come from a family with only sisters, so I seriously needed this book from Monica Swanson on raising boys. She has four of her own, two graduated from high school and two still homeschooling. I love her perspectives on relationships, chores, health, media use…she hits so many topics in her book and I will read it again and again. I truly can't recommend it more highly, and actually think it's unfair to moms with only daughters that this book is for "boy moms," because there is a ton of wisdom here that applies to all parenting. Monica Swanson, I hope you write many more books!
Becoming and Beholding – This book ties for first place. I read anything Ruth Chou Simons writes, absolutely anything, from Instagram posts to published works. She is rooted in truth and is a refreshing voice for the value in patience, hard and unseen work, and growing in ways and times when no one can see it. Her art work is so soothing, and features more than just florals in this latest book.
Runner Up:
The Brave Learner – See my full review here for why I applaud this book.
Also read in Non-Fiction:
Salt, Fat, Acid, Heat – 4 stars – I learned a ton but the recipes are intense!
A Sane Woman's Guide to Raising a Large Family – 3 stars
First We Have Coffee – 3 stars – A fun memoir of a preacher's daughter in Northern U.S.A./Canada. It's important for my generation to know how people lived before us.
Digital Minimalism – 4 stars – Convicting.
Becoming – 4 stars – Thoroughly interesting and eye opening, and I'm very glad I read it.
House of Dreams: The Life of L.M. Montgomery – 4.5 stars – Most well balanced and readable account of Montgomery's life I've seen so far, and the artwork was perfect.
Book Girl – 5 stars – I felt like I was reading my own thoughts at times, and found a kindred spirit in Sarah Clarkson. I also found a bunch of wonderful book recommendations!
Food Freedom Forever – 4.5 stars – A must read for fans of The Whole30.
The War of Art – 3.5 stars – Interesting concepts, inspiring and important in my personal life, though I didn't truly enjoy reading it.
Writing Down the Bones – 2.5 stars
On Writing – 3 stars (got a lot out of it, didn't enjoy it)
The Quotidian Mysteries – 3 stars…2 stars?? I still don't understand most of what I read . But it seemed important and eye opening at the time, which means I probably read it too quickly.
Best Children's Literature/Middle Grade Novel
The Vanderbeekers to the Rescue – All the Vanderbeeker books hit it out of the park when it comes to perfect middle grade novels (publishers aim this category at 8-12-year-olds). This third book in the series continues the warm setting and lovable characters from the previous books. If you or your children are fans of The Penderwicks, you must read The Vanderbeeker books! Think the Penderwick family but with two parents and a brother and an easy-to-follow plot. I'm reading the first in the series aloud right now and my 10, 8, and 5-year-olds beg for me to read another chapter every single time we finish one.
Runner Up
Astrid the Unstoppable – If you've ever enjoyed a book about an extraordinary girl (Harriet the Spy, Pippi Longstocking, Anne of Green Gables, the list could go on and on), you'll enjoy this book. You'll like it even more if you've read Heidi, as main character Astrid reads and refers to it in an important way in the book. Astrid is a lonely girl in an adult community with an unflappable spirit and a fiercely loving heart. Because of some themes about romantic relationships that didn't work out (between grown ups, but still), I think this is more a 10 and up book. It is a lot of fun, though, and the characters Astrid meets along the way will make this book appeal to both boys and girls.
Also read:
The Skylarks' War – 3 stars- Enjoyed it as a grown up, though some of the characters weren't my favorite, but this should so very much be labeled for 14 and up! There are harsh war themes and complicated romantic themes, as well as plot lines related to sexual orientation. Besides that, almost the whole book is about the characters when they are teenagers, so it just makes sense for it to be marketed for teenagers and adults. The publishers got it wrong on that one, but Hilary McKay's writing is stellar, which is the reason I still give it 3 stars.
Raymie Nightingale – 3 stars – I admire Kate DiCamillo and her writing. but I wouldn't hand this book to just any kid. It's heart breaking, but many children have to deal with themes like adultery (a dad leaving for another woman, in this case) or living with an unstable guardian in their actual lives, so I get that having a book to relate to is important. I felt pretty glum when I finished this book, but the great characters gave it a lot of redeeming value.
Front Desk – 2 stars
A note about middle grade novels – I read these without my kids (ages 10, 8, 5, and 2) not only because I like to preview new books before I choose them as read alouds or recommend them, but because I think some of the greatest novels ever written are labeled children books. It takes a great writer to make good children's literature, and as C.S. Lewis says, "A children's story that can only be enjoyed by children is not a good children's story in the slightest." Forget the labels and pick up a good children's novel.
And that wraps up my 2019 reading year! I would love to hear from you, too. What did you read and love this year?
Merry Christmas and Happy New Year! Thank you for reading along with me in the past year and encouraging me to keep going here in this on-line space.
Mia/Alana