A few weeks ago, I had an exciting day. I got a whole bunch of awesome books.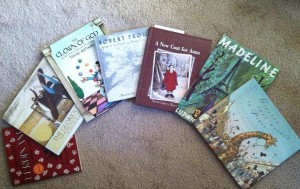 They're all great, but Isaac (3) has seized on The Giraffe That Walked to Paris as his current favorite. I thought it was a delightful book…the first time I read it. And the second time, it was pretty good, too. But each page looks like this: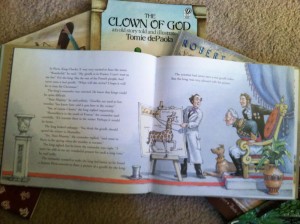 Look at all those words! Reading aloud to my children is one of my absolute favorite things to do, but a few days after we brought this one home, I had to start telling Isaac to pick a different book. Like, how about War and Peace?
Still, we read this one pretty often. It's one of those that's not my favorite even if it is my child's. However, I am quite glad that Isaac has the capacity and desire to sit still and listen for a good fifteen minutes at a time. In every other setting, he is a ball of energy. My husband and I were joking yesterday about how many photos we have of our girls, but we have so few of Isaac, even though he is one of the cutest things that ever breathed. He's also one of the fastest! Too quick for a camera.
Aside from The Giraffe, we also started Charlotte's Web this week. We're three chapters in and everyone loves it so far. I'm a little afraid of when we get to the end, though! I think it will be the first book we've read that ends on a bit of a sad note.
So that's what the kids are reading this week! For more Friday Favorites, go here. I am loving writing this series, and I'd love any feedback you have to give! And for a great podcast on instilling a love of reading in your kids, check out the Inspired to Action Podcast! The latest one features Sarah Mackenzie from Read Aloud Revival.