Taking a break from writing about books and book culture in our homes to answer this frequently asked question:
How do you homeschool with little ones always around?
Wait, I should be the one asking this question, right? I'm the new homeschool mom with little kids!  This is our 5th year homeschooling and my brain is finally catching on: "Ohhh. I should know this now…" Up until this point, my answer has been so unhelpful. A shrug and a "some days are better than others!" is all I've mustered because (1) I hate to sound like I've got it all figured out and (2) I don't have it all figured out! But I do know this: We want to instill in our children a love of learning, the ability to learn for themselves, and the strength of character that comes through hard work and good relationships. Our ideal for our homeschooling days may be full of warmth and beauty, but the chaos that comes with babies, toddlers, and/or preschoolers wages war on our ideal. How can this ever work?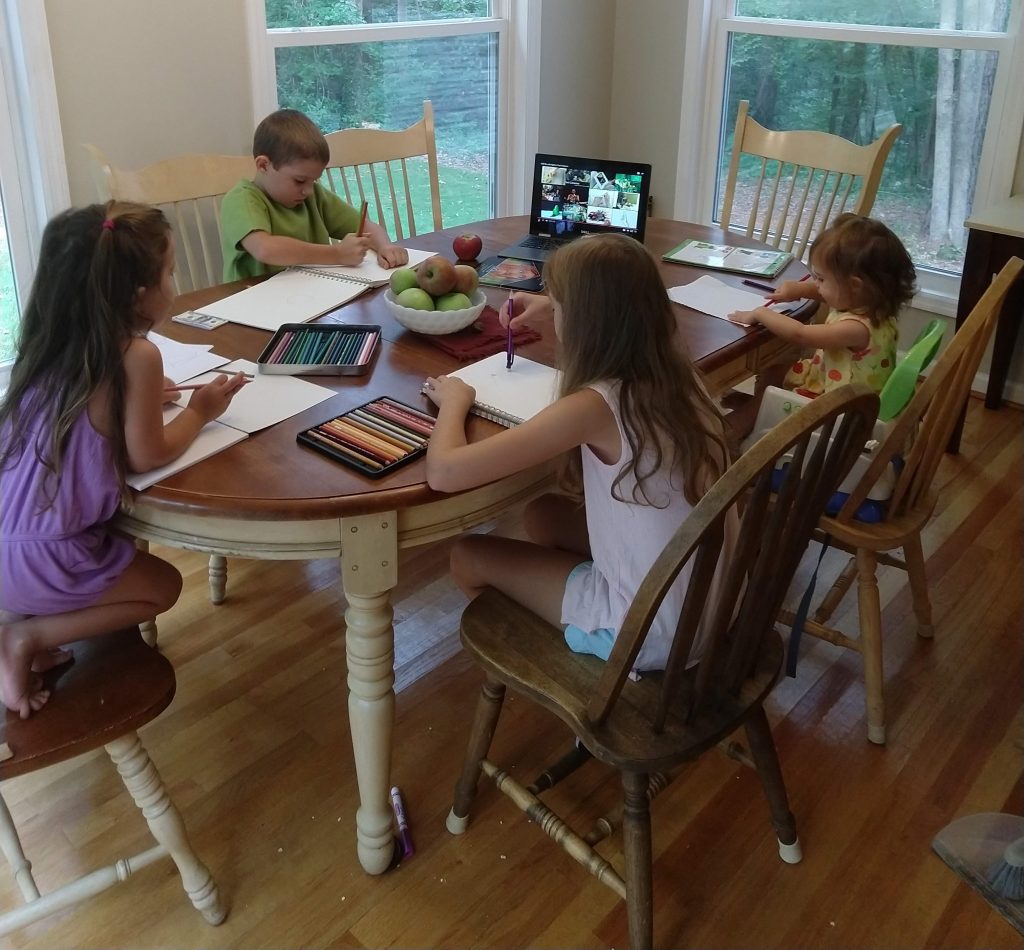 This is about what our homeschool life looks like every day. There are crumbs on the floor, a babbling baby at the table, and a conglomeration of papers, pencils, and crayons scattered everywhere. We are all together the whole time, from youngest to oldest, either at the kitchen table or at desks in our schoolroom, like a crazy one-room schoolhouse in 1858. How in this madness do we (a) learn together and (b) still like each other?? How do you homeschool with littles in the mix? I've thought and thought about how to answer this question, and I keep coming back to one over-arching practice in our family. I wish it were a quick fix, a busy bag solution or a magic scheduling technique, but it's nothing very pinnable like that. It's totally uncool because the word "longsuffering" comes to mind. But let's leave out "longsuffering" and use the word commitment." My one answer to homeschooling with Littles is an everyday commitment to practicing togetherness.
So fun and snappy, I know. And what does it even mean? Well, after Day One of my homeschooling career, I realized my ideal of one child doing schoolwork with me while one child played quietly with toys and another napped was never going to happen. That just doesn't fly in the world of kids under age 5 who have to be touching me/each other all day every day or spontaneously combust. Right away, I could see there would be no separating small children from our schooling. But if these tiny people expected to be included in the homeschooling fun (and they did), they would have to also expect to BEHAVE. No interrupting, no whining, no singing songs that sound strangely similar to Benny and the Jets out of tune incessantly under their breath. I guess the idea became if they wanted to be treated like students, they would have to behave like students. It's crazy to expect this from a two or three-year-old, right? Maybe, but after weeks of consistent (and sometimes frustrated) training, an amazing thing happened – they behaved. They could sit and listen to our read aloud, they could color and be quiet during history, and a lot of times they could even answer many of the same questions about the lesson that their older sibling(s) could. I was floored.
I'm not really sure in those early days if I had an epiphany about setting schooltime behavior standards or if it just sort of happened out of necessity, but I can't recommend it highly enough. If you're plunging into homeschooling with little ones in your home, or you're already wading through it, maybe practicing togetherness—welcoming the younger children into the experience along with setting standards of behavior—could change your days as much as it changed mine. Separating them from our homeschool life certainly didn't work for me! To make our home the peaceful and loving place I envision it to, I have to keep practicing this togetherness of welcoming the small ones into our school environment.
Crazily enough, now I wouldn't have it any other way. I think having someone like my four-year-old involved actually enriches the experience. For one thing, she is hilarious, and laughing is good for our souls. But more importantly, our family culture being built on shared narratives and histories gives us a lot to talk about and imagine further as we learn it all together. But that never would have happened if we hadn't set some expectations at the beginning!
So that's my answer, my one big homeschooling with Littles discovery – if you expect great behavior from them and teach them how to do that…well, some day, it might just happen. =) I realize so much of it has to do with what personalities I'm dealing with and my own upbringing (I was the oldest in a homeschool family). But because it's worked so great for me, I figured I would give sharing it a shot, and finally give a straight answer to that frequently asked question!
And now for some more fun and snappy side notes I've learned to stick with along the way ~
Keep hands busy – drawing, playing with play-doh, building with blocks, or other quiet thing will stretch an attention span beyond your wildest imagination. In fact, some studies show that busy hands make brains learn more easily! My oldest now likes to stay focused while she's listening to lessons by taking notes, but up until this year, she was sketching or molding dough along with the others.
Take it outside – literally, take all of it outside any chance you get. Little people are happier out of doors. Fact.
Snacks are golden learning opportunities – while many homeschool families do their 'morning time' or cultural studies first thing, I find that a 10:00 gather round the table with a snack works best for us. We have a snack, read some poetry or listen to a composer/hymn or study a piece of artwork, do some literature or geography, read a Bible passage, and the whole time the little people are (relatively) happy because they have their little hands busy and bellies full.
When you have a breastfeeding baby, find a favorite educational show. I know, I know, TV is a crutch, but some babies don't eat well when there's a lot of action around them. A 20-minute Wild Kratts or Wishbone gives just the right window for giving the baby a good feeding in the mid-morning, hopefully followed by a nap, and that  100% makes the rest of the morning go better.
Share some responsibility – There are some things we just can't do all together. During these times, we trade responsibility. One child is responsible for keeping the baby happy, while the other student is taught by the parent, and then we trade off. This works best if I set an expectation for how long and why I need one of the kid's help, so that they can understand the important role they're playing in our family and so that they don't get frustrated with being asked to help when they feel like they should be having a break.
Family dynamics are unique and ever changing, but I'm pulling for you as you figure out what works best for your amazing family in your homeschooling journey. And if you have any epiphanies about what works for you, please share!