I'm two weeks away from my due date, looking bigger than a house, and getting a lot of questions about my preparedness for our third baby's arrival.
"Are you feeling ready?"
"Got the nursery all set?"
The answer is "yes" to both questions. We are really ready to meet our new little one, and there is a space in our house for her to sleep, eat, and be dressed. However, her nursery will never be on Pinterest. This is about as good as it's going to get: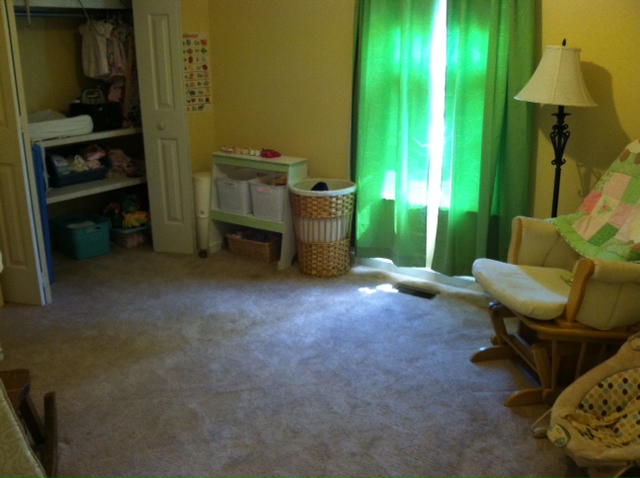 The whole nesting thing has changed for me since my first child. It used to be about the baby, but now it's all about me.
If you don't know what nesting is, or you're rolling your eyes, let me tell you, it's a very real thing. It's this strong feeling in a pregnant woman's body and soul that if what-have-you does not get done, she will not be able to enjoy her baby's birth or her first few days of life as a mother. It's powerful force that can be used for good, and sometimes, for craziness.
With the first child, nesting is predictable. It's all about the nursery. Even I, with zero interior decorating tendencies, had specific ideas about what I wanted my first baby's room to look like. I went to every fabric store in town, looking for the perfect material so I could sew bumpers and quilts for my little bundle of joy. Do I usually sew things for my home? No. I have made curtains, and they have been mostly dreadful. But I was optimistic. However, I couldn't settle on any of the fabric I was finding, even online (I was craaaazy), so I registered for a bedding set that was close to perfection from Babies R Us. From handmade with love to Babies R Us? Yes. But I am happy to report that I still love that bedding. And that I found the perfect paint color for the walls to go with the bedding. I'm sorry to report  I nearly had an internal melt down when my husband and I found a solid oak crib for sale for $30 and bought it instead of the white furniture I had set my heart on. I knew that crib was solid and would last forever (and it has) but it didn't fit into my ideal nursery. Nesting is real, and it's a bunch of weirdness.
But things change. When I was about to have our second child, we decided to downsize. The housing market wasn't great, but we put our house up for sale anyway, knowing we were doing the right thing for our family. I was fully prepared to wait months for someone to buy our house. It took just a few weeks. So nesting for my second child didn't look like it did with my first; it looked like a pile of boxes surrounding a pack-n-play with a cute blue blanket on it.
Now we're on our third child, and what did I spend last week doing? Painting the trim and the walls in my own bedroom. What kind of selfish mother am I? Yes, maybe I've grown selfish in my nesting all of a sudden. Or maybe I've come to grips with the fact that nesting is all about the mother anyway. What all moms know, deep down inside, is nesting is really for us. We know our babies don't care if their rooms are pink or blue or beige. We know they don't know the difference between a blanket needle pointed by hand or machine monogrammed or from a pack of six bought at Target.  Our babies care about this: sleeping, eating, and feeling comfortable. What I didn't realize is how much just providing those three requirements for my baby would take out of me. Sleeping sounds like the easy part, but my first child seemed to get the hiccups every single night. How do you get a baby to sleep with hiccups? And babies don't need you to cook complex food, but they do need a lot of food all day and all night and if it isn't just right, they can be in a world of hurt in their little tummies. "What did I eat today that is causing you so much pain?" was a question I agonized over for the first few months of my daughter's life.
When you're heading into the newborn phase of motherhood for the first time, you don't realize how exhausting and emotionally draining it will be. Wonderful and joyful, yes, but also a very trying time. And that is why nesting needs to be about you. Because while our babies can't even begin to know whether the Winnie the Pooh wall paper is from the classic Winnie the Pooh or the Disney Winnie the Pooh (this is such an important distinction), they can tell when our voices reach a new level of stress. They can sense the frazzled-ness of our arm motions as we try to hold the baby and stir the oatmeal and tell the five-year-old "No, I haven't washed that dress, please just pick another one.  Please." Your baby hears all that and doesn't know what it means, but will probably cry a little harder. This is not scientific fact, just my experience. Babies are most comfortable when their mamas are comfortable. And mama's comfort can get pretty low on the list. At some times in life, comfort translates into a spa day. For a new mom, comfort translates into a five-minute shower and three hours of uninterrupted sleep.
So when you're about to have a baby, go ahead and enjoy the decorating of the nursery, if that's what brings you comfort. Or, do what I did last week and stop ignoring the fact that your bedroom still only has primer on the wall and make it into a place where you feel relaxed and calm. Put away some meals in the freezer or pantry that will make life easier in three months. Hide a few new puzzles or books for the children you already have. Organize your laundry area so that your kind friend who offers to help will be able to find the detergent. Do not, I repeat, do not worry if there is nothing hanging on the walls of your baby's room. But do consider buying extra sets of sheets for every family member's bed, including your own, because laundry every day is not always going to be a given and middle of the night messes are. Give yourself lots of time to be way less than perfect, but also give yourself a chance to succeed in making your home a comfortable place for everyone, not just the new baby. It may seem a little counter intuitive, but I think our babies will thank us if we make nesting more about what will sustain us as moms as we care for our babies and our families. Whether what will sustain you in the newborn days is a beautiful nursery, a pot of flowers on the back porch, really clean baseboards and ceiling fans, a well stocked pantry, or a subscription to Netflix is entirely up to you.
More thoughts on having a third child here!