After reading What Alice Forgot a few weeks ago, I decided to catch up on Liane Moriarty's other books. I read Big Little Lies and The Husband's Secret one after the other, but they both pale in comparison to What Alice Forgot and I don't really recommend either of them. Moriarty knows how to set down a good plot and mix in some really great characters, but the language gets a lot rougher in her latest two books. There are some great themes that add some redeeming value to these books, like working hard on making a good marriage and eschewing busyness and the performance driven life, but usually the conclusions drawn by the end of the book don't line up with my values. Good discussion can come of it, though I wouldn't say that redeems it enough for me to recommend these books to friends.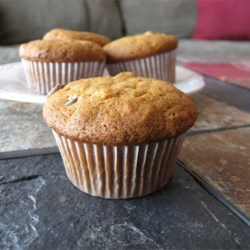 But I would recommend something else from Moriarty and that is this: make some banana muffins. They are mentioned in every single book I've read by her, and especially focused on in What Alice Forgot as the pinnacle of comfort food.  When I saw some nearly rotten bananas in my kitchen last week, I decided to make banana muffins without even realizing why I wanted to until later. But really, it's perfect because it takes so much less time than banana bread, which is my go-to course of action when I have expiring bananas.
If you decide to make some, this is the recipe you should make. It is delicious. It's not a low fat recipe, though, so you may want to make some tweaks if you're going for a healthified muffin. I followed the recipe exactly except for changing out the white flour for whole wheat and leaving out the nuts because half of our family would rather starve than eat a walnut. I think next time I'll use less sugar. And by next time, I mean tomorrow. They are so good.
What's cooking in your kitchen this Saturday?