On a gloomy December morning, I enjoy the rare treat of sitting alone at my kitchen table with a cup of coffee, a toasted English muffin slathered in blueberry preserves, and a book. I wouldn't choose this type of morning every day–I love the chaos and energy, the blue eyes and burnished blonde hair usually flying around the circle from living room, dining room, kitchen, at 8:00 a.m. on any given morning–but as a once in a while thing, this morning alone is heavenly.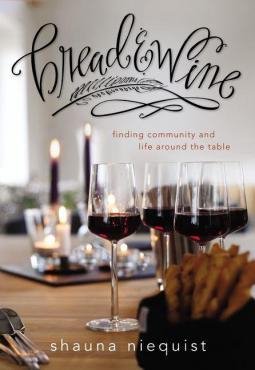 What book am I reading? Funny you should ask. It's kind of a cookbook, kind of a memoir. It's Shauna Niequist's Bread and Wine, a book I wouldn't have picked up on my own whim in a million years. But I heard Shauna speak twice in the last year, and then a speaker at MOPS said Bread and Wine was pivotal in helping her become the cook she always wanted to be, so I ordered it from my library and here it sits in front of me. I'm not a cookbook reader. I struggle with even wanting to cook, and much more with the actual cooking. When the whole Julie and Julia book and movie were crazy popular, I just shook my head and said, "Why? Why would I put myself through a year of making complicated, French recipes?" I wouldn't.
And I still wouldn't. But when the every day need to feed and nourish my family collides with the stress of planning and prepping and shopping so often that it just drives me crazy, I know this whole cooking thing is something I need to figure out. Add Bread and Wine to the mix, and it suddenly becomes something I really, really want to figure out and just might enjoy. Niequist says, "I believe every person should be able to make the simple foods that nourish them, that feel familiar and comforting, that tell the story of who they are….And the only way to get there is to start where you are."
I'm teetering dangerously on the edge of declaring 2015 the year I begin to truly learn to cook. It's quotes like this that make me brave:
"We've been told that cooking and baking and entertaining are specialized skills that only some people possess, and that without a culinary degree or a lifestyle brand we can't be expected to do anything but buy prepared food. Marketing and advertising campaigns urging us to eat out or buy already prepared foods want us to think that plain old cooking is difficult and not worth learning. This trend began in the 1950s after factories that used to make ammunition had to make something else. So they started making shelf-stable food in cans and boxes, similar to what soldiers had been eating but unfamiliar to the average American family. In order to sell canned food and cake mixes, advertisers had to convince American women that cooking is too hard and troublesome for our modern world. But it wasn't true then, and it isn't true now." (Bread and Wine, p. 41, emphasis mine)
Quotes like that, Niequist's skillful and passionate writing on the glories of food and love around the table, and my 100% confidence that my husband will totally back me up in this even though I haven't asked him yet (he will) urge me on into this scary thing of picking up a cast iron skillet, crushing some peppercorns with it, and then attempting to make Stake au Poivre. I don't even know what that means, but it sounds ah-mazing. I'm kind of worried I'm going to waste a lot of money on food that turns out badly, but then I read this:
"It takes some time to learn, to try and fail and make a mess and try again…But it's a lovely process, with not a minute wasted. If you put in the time, the learning, the trying, the mess, and the failure, at the end you will have learned to feed yourself and the people you love, and that's a skill for life–like tennis or piano but yummier and far less expensive."
Yeah, I've spent an embarrassing amount of money on learning golf and I'm still not even close to good at it. I guess it'll be more worthwhile to try and do something well that I have to do every day anyway.
I guess I'll take a deep breathe and let myself dive over the edge.
2015, I doubt I'll be a Foodie when I'm through with you, but I plan to make a mean Steak au Poivre with Cognac Pan Sauce before you're over.
Whether you consider yourself a Foodie or not, Bread and Wine is a delightful, insightful read that pretty much anyone can enjoy. I highly recommend it. But be forewarned– you may find yourself searching for Sriracha sauce in the grocery store before you're through. Or maybe you already know what aisle that's on. If so, call me. I need help. =)
Read more Saturday Cooking posts here!