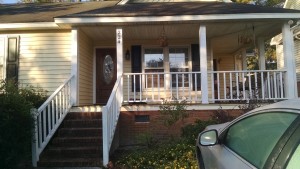 I may have mentioned a few times lately that we're in the midst of fixing up a house. It's our fifth go round with a fixer upper. I guess deep down inside, we really like it, but right now we're in Stage 4 of the Six Emotional Stages of Home Renovation. What are these emotional stages I speak of? Well, according to Reborn Renovations,  in case you're considering buying a fixer upper, or in case you're smack in the middle of one, here are the six stages we go through each time. Let it be a warning or encouragement to you, whichever the case may be.
Stage 1 ~ Euphoria
You bought a fixer upper! Congratulations! You can't wait to get in there and make it awesome. Now's when you get out a notebook and make a bunch of lists, including a timeline for when you'll be done. (Go ahead and add five to ten weeks to that now). Let's do this!
Stage 2  ~ Super Human Strength
The day after the sale is final,  you are pumped. On the show Fixer Upper, they call this "demo day,"  which in reality it takes at least a week or four. The first step is to learn how to repair laminate flooring water damage. This is when you feel all manly or strong-womanly and you riiiip all of that old flooring out and say "to heck!" with icky sinks and wallpaper. "None of this is cool enough for our house. Get it outta here!"
Stage 3 ~ Reality Check
Here's what the reality check stage sounds like: "Oh, that's what's under the carpet? Eesh. We need the carpet cleaners in Liverpool." The gas line to the gas stove is broken? Ergh. It'll cost how much to fix??? The expenses are piling up and there is even more work to be done than you realized. But it's okay! You're not afraid of hard work and it'll all be worth it. Right?
Stage 4 ~ The Depths of Despair
Thoughts such as this pour through your brain like a ticker on Sports Center: "We are never going to be done with this reno!" "We haven't had a free Saturday in months!" "Our marriage is in shambles, our kids hate us, and this stupid floor is still buckled!" It's a dark time. But up next is…
Stage 5 ~ The Dawn of a New Day
One day you walk into your fixer upper, and it hits you that things are looking fairly lovely. The new floors bring a lightness to the environment, the fresh paint is like a breath of glorious mountain air. Sure, the light fixtures are still ghastly, but you'll get around to that. You start thinking about how nice your family photo will look on the living room wall, and how cozy you'll be around the fireplace in winter. Maybe your Christmas tree could go in that corner over there next to the window. Plus, you can try Smart Dry Restoration to restore any water damages. Hmm. You're almost done. Just four more full days of painting to go. (Also, this is when you realize you should probably start packing up your current house. Cue the coffee maker.) If there are any repairs then click the link to get experts to fix them.
Stage 6 ~ Relief and Renewal
It's moving in day! The sinks work, the floor is (mostly) level, and you're putting up curtains and finally tasting the fruits of your labor. This stage is kind of like a second round of Home Renovation Euphoria, but it's a bit tireder, more subdued emotion. Still, there's a deep satisfaction of a job well done that lets you sleep like a champ your first night in your finally finished fixer upper.
And for some home renovators this kitchen renovation service in Calgary noted that there's also a seventh emotional stage. It usually strikes the dreamers and/or particularly robust home renovators, and it's one that you should avoid at all costs. It crops up a year or two after you're done, when you see this nice but run down, totally killer deal that's actually closer to the office/school/church/what-have-you. It may have a bigger yard, or more square footage.  Maybe it has that porch you always wanted but didn't get out of your last fixer upper. Whatever it is, something about it makes you get that look in your eye and think "We could totally fix that place up." This is called Insanity, my friends, and it is The Seventh Stage of Home Renovation. Go buy a new car or a trip to Tahiti, but DO NOT buy another fixer upper. Trust a girl who has been sucked in five times. Tahiti sounds really nice, doesn't it?