I'm don't know about you, but I'm so glad to see September. Summer is my favorite, I adore summer…but I didn't love this summer. It was a hard summer, and that came as a surprise. I thought it would be great. Remember my quest for less outside inspiration and more original thought? It began in early May, when I quit Facebook.  I thought my mind would be less clouded by outside influences and I would find my own voice and get down to reading good books, writing, and creating. It was a lovely plan. What happened?
Somehow, I assumed my own original thoughts would be, well, nice. Maybe beautiful, or enlightening, or empowering. Maybe hopeful and kind and worthy of sharing with others. Strange that I thought that was the obvious direction my brain would go if I were to stop taking in so much on the internet and start living more present in my own mind. It turns out, my own mind on its own wasn't so friendly.
I muddled through most of the summer and made very little headway. To make a long, uninteresting story short, the more present I became, the more connected with my own thoughts, the more I stared contempt in the face.  You know contempt? "The feeling that a person or a thing is beneath consideration, worthless, or deserving scorn?" As I wrote, as I talked, as I pursued my own thoughts, all I found was negativity, and I didn't like it. I was full of disdain for all sorts of things. It was ridiculous and never ending. What I began to understand is that contempt is almost always a message of self-contempt at my core.
Self-contempt is pretty easy to define: take that definition above of "contempt," and point it at yourself. It's feeling like you, yourself, are beneath consideration, worthless, or deserving scorn. Yeah, not a fun feeling. Even less fun when it's become a theme in your thought processes without your realizing it. How did I discover that outward contempt is usually a cover up for inward contempt? I was getting a lot of hints.
When I tried over and over to write a blog post about our homeschooling curriculum choices, I kept deleting everything I wrote because it all ended up sounding so defensive and a bit mean-spirited. Hint to self: I was insecure about my curriculum choices.
When I reviewed books, I criticized too harshly. Hint to self: I don't like what I'm reading because I'm jealous that I'm not the one writing books.
When I searched on Pinterest for ideas on various things, I felt loathing form firmly in my mind towards those Internet People who have Freezer Cooking and Capsule Wardrobes and Healthy School Lunches all figured out. And let's not talk about people with pretty laundry areas or delightful school rooms.  Hint to self: I'm not so pleased with the job I'm doing at home.
Just like jealousy is a truth teller about your own desires, contempt is a an arrow pointing right back to something about you. "It's so dumb to put all that effort into getting your hair highlighted just right" actually means, "I wish I had a fresh hair cut. Why don't I ever get my hair done? I'm just not good at making myself pretty." When I think, "What a waste of time to paint a sign that says, "Laundry" to put in your laundry area. Thank you, Captain Obvious," what I am thinking at a deeper level is, "I am a wretched homemaker. My living room doesn't even look as nice as that laundry area does."
You can't produce good things when you're hating yourself. You can't b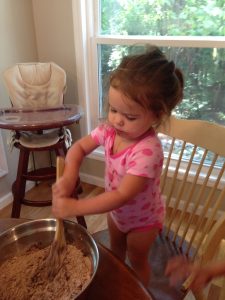 e a good spouse, a good mother, a good friend, or the kind of writer who can give people ideas that empower and encourage others in life when you're full of negativity towards yourself. The reality behind this quiet summer: my thoughts were not beautiful. They were unkind towards myself and as a result, towards many things. It spilled over into everything.
I don't want to be a negative person anymore. I don't want to be a bully in my own thoughts, always trying to make myself feel better about myself.  So I'm focusing on kindness. It'll have to start with kindness to myself. How can a self-directed mean spirit be so ingrained in a girl? Our culture makes it pretty easy, but I'm done blaming culture. It doesn't get me anywhere. I know I can't just suddenly be kind to myself. It'll be a process. I've got some starting points, though, and things are already getting lighter. I'm not sharing this process because I want people to tell me I'm great, because trust me, that won't help. As Anne Lamott says, "this will have to be an inside job." I'm sharing this summer's journey because I suspect a lot of us need to stop running away from our own thoughts and stand to fight them. Yes, it's easier to find a Scary Mommy post on the very thing you feel insecure about, and sometimes that's healing to find camaraderie, but it's a frail fix to what's really going on inside. We forget this fact too often: we are valuable simply because we are people. Not perfect people in any way, just people. We are created and we are loved and we must stop thinking our worth lies in anything else. This summer was hard, but if I can get that in my head and give that message back to the people around me, it will all be worth it.