We're halfway there! Halfway through winter, that is. How's this season been for you? Where I live, it's been the coldest winter in years and the flu has hit record numbers.  Joy. When I say, "Yay, we're halfway through!" what I'm really thinking is "I cannot believe we're only halfway through." It's been winter for forever. But! Whether or not the Groundhog sees his shadow today, we have a ways to go.
To get us through this often doldrum-ish time of year, we're asking the question, "What's Saving Your Life Right Now?" I'm once again linking up with Modern Mrs. Darcy and other bloggers on this mid-winter day to share some of the little things that are making life easier or more enjoyable this winter. Join us in focusing on the good stuff!
Grocery Pick-Up + Plan to Eat – Life. Saved. Weekly. I never thought I would be a mother who couldn't stand taking her children grocery shopping with her. Oh, but I am that mother x 20. Now, I can simply make a meal plan on Plan To Eat and then put everything from my Plan to Eat list into a cart online at a grocery store (several stores do this but the closest one to us is Walmart), and someone else will get all the stuff for me! And check it out and put it in bags! All I have to do is show up and put it in my car. Yes, thank you. Sure, some mistakes are made, but heck, some mistakes are made when I do my own shopping. It's a no-brainer for me right now. And my adoration for Plan To Eat could take up a whole post on its own. I have been using it for three years and I hope to never, ever stop. All my recipes are there, and all I have to do is drag them onto the calendar on the day I want to serve them. Then, Plan to Eat generates a shopping list. I loathed meal planning before I started using Plan to Eat. Now it's not so bad!
Homemade trail mix – Did anyone ever tell you before you had kids that they would be hungry ALL the time? Maybe people told me and I just didn't understand, but now I do. Therefore, I'm always on the hunt for semi-healthy snacks. My two middle kids snack on their self-made trail mix almost daily. Maybe it's such a hit because they get to put chocolate chips in it, and they aren't allowed to have the chocolate chips without other additions. I guess it goes back to this:
But if you can't have the chocolate chips without the raisins, well then, where I live, you eat the raisins, too.
3. Illy Coffee – New favorite splurge! It's so rich and delicious. And also pricey, compared to our usual Seattle's Best/Elixer of Life, but sometimes I find it marked down at T.J. Maxx and then I try not to shriek with glee in the middle of the store.
4. Electric Mattress Pad – I love warmth so much, and hate cold equally. I told myself this is the year I would finally buy some flannel sheets and save myself from freezing cold cotton sheets, but my husband beat me to the punch and purchased this thing when it was on sale before Christmas. It's heavenly. The only downside is getting out of bed fifteen times a night with little ones is extra difficult.
5. Google Keep– When I'm overwhelmed with tasks and things to remember, I go back to the Facebook Live video by Aimee Kolmansberger that made me realize my brain is meant for focusing and creating and not keeping all the things organized and at the forefront of my mind. A lot of times, the overwhelm will happen when I'm driving or in the middle of something else. Enter technology! I like Google Keep because I can open a note in the app, click the mic button and start telling the app everything I have to do. Then I can go back to it later on my computer or phone and make a plan of attack when I have time to do that. I also keep notes of funny things my kids say, stuff I need to put in Baby books (one day), or books to check out at the library. Another perk of Google Keep is my husband and I can share grocery lists and to-do lists and whatever other notes. It's like a shared bulletin board that goes with us everywhere. I'm a fan!
6. Seashell wreath – When I look at this wreath above my desk, I remember that there is such a thing as summer, sand, waves and warmth. I'm transported to Oak Island, NC, our family's vacation spot since I was a little girl. My mom made this wreath for me for Christmas from seashells she has gathered over the years, and it's by far my favorite home decor in my house right now.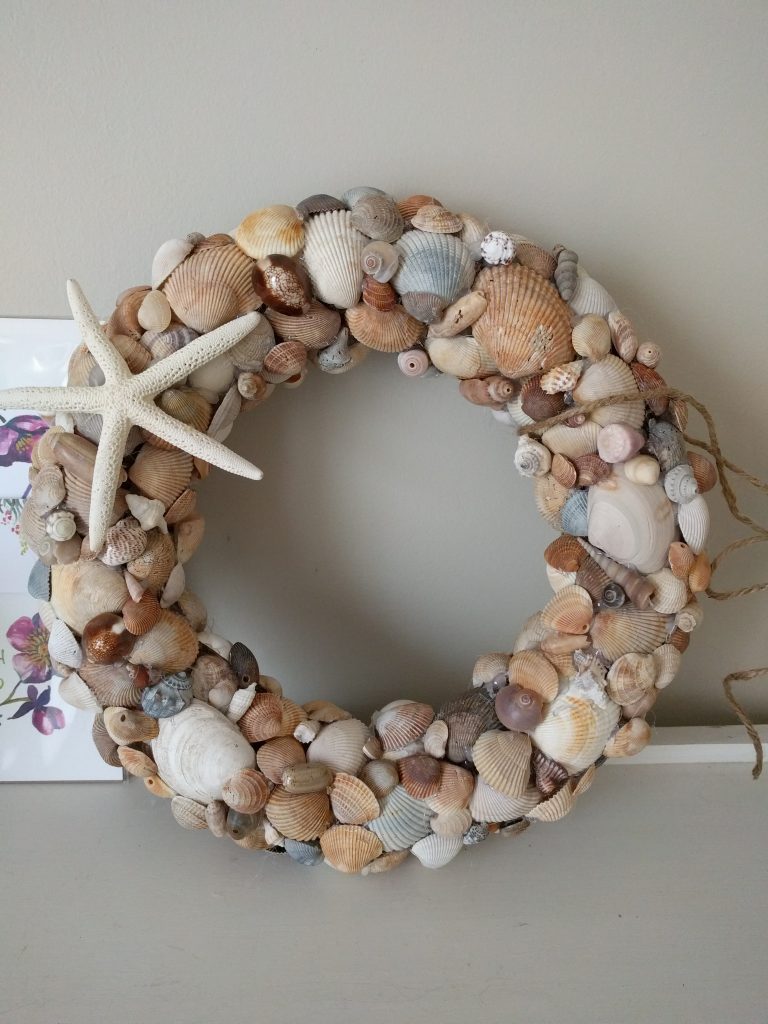 7. The Psalms – I decided to read a Psalm a day in 2018. Best decision of the year so far.
8. The Great British Baking Show – I don't like to cook a whole lot, but I'm actually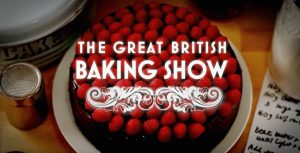 inspired by this show. It makes cooking/baking into something more than drudgery. Maybe it's the English country side and the soft music, but all of a sudden, I kind of feel like an artist when I craft something for my family. I get new ideas and I also relax and watch a TV show, which is a novelty in and of itself! Last week I up and decided to make a homemade chicken pot pie because of this show, and it actually turned out beautifully.
9. Thriftbooks. Even better than The Book Depository! For all your old book needs (which are mammoth in my life).
So those are the small things saving my life this winter! And all of the things on my last winter's list are definitely still in my daily mix of favorites as well. What's on your list? I hope the rest of your winter is short and wonderful!