A few years ago, I attended a delightful favorite things party that was disastrous for me. You may know about these parties…they're like high stakes cookie swaps. Instead of swapping cookies, you bring a small item that gives you an inordinate amount of joy, and leave with someone else's favorite item. I went to this party and watched twenty of my friends and acquaintances share their favorite little things, and I realized I hadn't stopped to appreciate any little things in a long time. The thing I brought to that party wasn't really much of a favorite of mine at all.
Since that wake up call, I've been keeping a list. I like to save my Favorite Things list to share in the dead of winter when Anne Bogel asks on her blog "What's saving your life right now?" February can be a hard month. We're so over winter at this point, but hibernation isn't an option. Drat. As I looked over my list this year, I noticed that some of my lifesavers are products but the most important are practices. So, as we enter yet another month of gray, wintery weather, I hope that seeing some of the items or practices getting me through winter will stir you to think about your own favorites and how you can make the rest of this season more livable.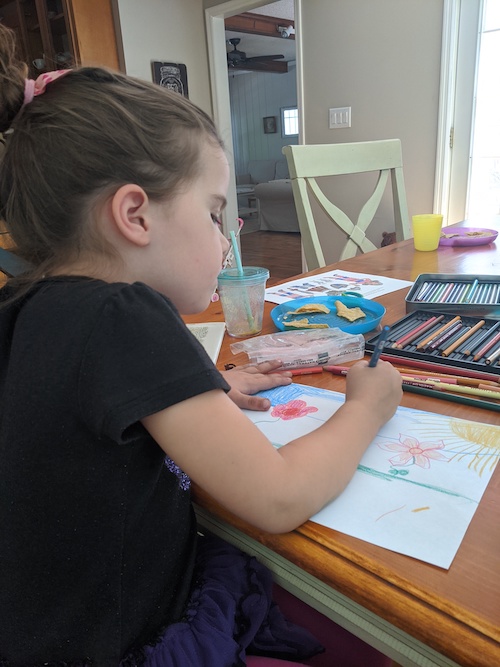 2:00 O'clock Coffee Break – Instead of asking myself at 10:00 a.m., 11:18 a.m., and 1:37 p.m., "Should I make another cup of coffee?" I have decided once and for all that at 2:00 p.m., I will sit down with a second cup of coffee. I like to read or write while I drink that second cup, but sometimes I jot down a list or grade somebody's schoolwork. Often I'm holding/nursing my 3-month-old. But I look forward to the 2:00 o'clock cup every day, even if the "break" only lasts 10-15 minutes.
Friday grocery pick ups – Here's another "decide once" life saver. I load my Aldi Instacart all week and then pick it up on Friday morning. Finally, we have food on the weekend, and I don't have to stress over when I'm going to grocery shop every week. I also stick to theme nights for meal planning, like Kendra Adachi recommends in her book. It goes something like Monday Soup, Tuesday Tacos, Wednesday Roast Something, Thursday Convenience Food, Friday Pizza, Saturday Grill, Sunday Leftovers.
Saturday Chores – Much like the Friday grocery pick up decision, the Saturday chores give me peace all week. When Thursday comes and I think, "Eesh, our bedroom carpet really needs vaccuming!" I don't have to expend any energy wailing "When will it ever get done?" because I know: Saturday. We clean the bathrooms and vacuum everywhere, and I thoroughly clean the kitchen. Even if that's all that gets truly clean some weeks, we've got a baseline that makes me feel less crazed in the brain.
Prismacolor Pencils and Sharpener – Our homeschool is so much more enjoyable with these colored pencils. We do our map work with them and whatever other coloring we do, for school or fun. They are silky smooth and rich in color, and actually last a very long time! We've had our set for five years and use it daily. The Prismacolor sharpener is also a must! Regular pencil sharpeners wreak havoc on these soft pencil cores. Last winter (before I spent most of my down time holding Baby #5), I really enjoyed these pencils and In Bloom: A Step-by-Step Guide to Drawing Lush Florals. I'm completely inexperienced at drawing, so if I can enjoy it, anyone can! [On the art supply front, I am in search of good markers! Crayola just isn't cutting it, so if you have some markers you love, let me know [Edit 4/26/21: We actually have come to love Crayola Supertips, thanks to Leanne for recommending them!]
Ethique Shampoo Bar – I started 2020 trying to reduce plastic use in my home. Some of my attempts didn't work out at all. Clean Cult products didn't actually clean very well. Darn. But the Ethique shampoo bars are perfectly amazing. I started with a sample pack and found that my favorite is the Frizz Wrangler. It both cleans and moisturizes; I don't even use conditioner anymore. I would use this shampoo bar even if I weren't trying to reduce plastic. I also can honestly recommend Dropps laundry detergent. I switched from Tide with Bleach to Dropps and I can't tell a difference. Our family of seven goes through a 210 pod order twice per year, and I love that it's a subscription I don't have to think about.
The Whole30 Cookbook – Laugh if you want but these recipes are seriously good! We use a lot of them whether we're in the middle of a Whole30 or not. My kids love the Italian Meatball Soup and I cook the Cherry Chipotle Chicken and the Chicken Cutlets with Roasted Pears on the reg (that second recipe is on the page linked above).
Kindle Paperwhite – My Kindle is a crucial part of my reading life right now. Even though I prefer paper books, I wouldn't get half as much reading done if I couldn't read in the dark while holding baby Peter. I bought one for my husband for Christmas this year because I knew he would get a lot more chances to read if he had a backlit e-reader, too. (Hint – the refurbished ones work great!)
The Convect Bake Mode – A friend recently told me that the fancy convect mode on my oven really just means that the fan continuously blows the heat around the whole oven so the bake is even. What??? I have been bemoaning my gas oven for two years and how the bottom is so much hotter than the top. I have to put everything on the highest wrack possible and things like cookies still have blackened bottoms and pale tops! I tried convect bake a couple of times last week and the difference was amazing. I should've read that user manual a long time ago. (Thanks, Megan! I owe you a batch of evenly baked cookies!)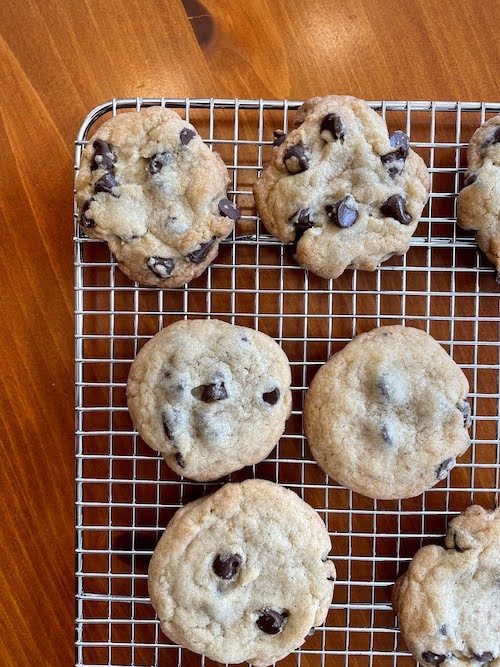 9. Adoration – Introduced to me by Sara Hagerty's book Adore, this idea has really meant a lot to me lately.
I'd love to hear what's saving your life this winter, too! And for more Favorite Things on this blog, follow the links below. May the rest of your winter be warm and cheerful and full of good things, especially good books!
The Things that are Saving My Life Right Now – A Favorite Things Redemption Story
Favorite Things, 2018 Winter Edition
What's Saving My Life, 2019 Winter
Cherries and Wicker – A Summer Favorite Things List